create your own aubreyplays one of a kind!
$

79.00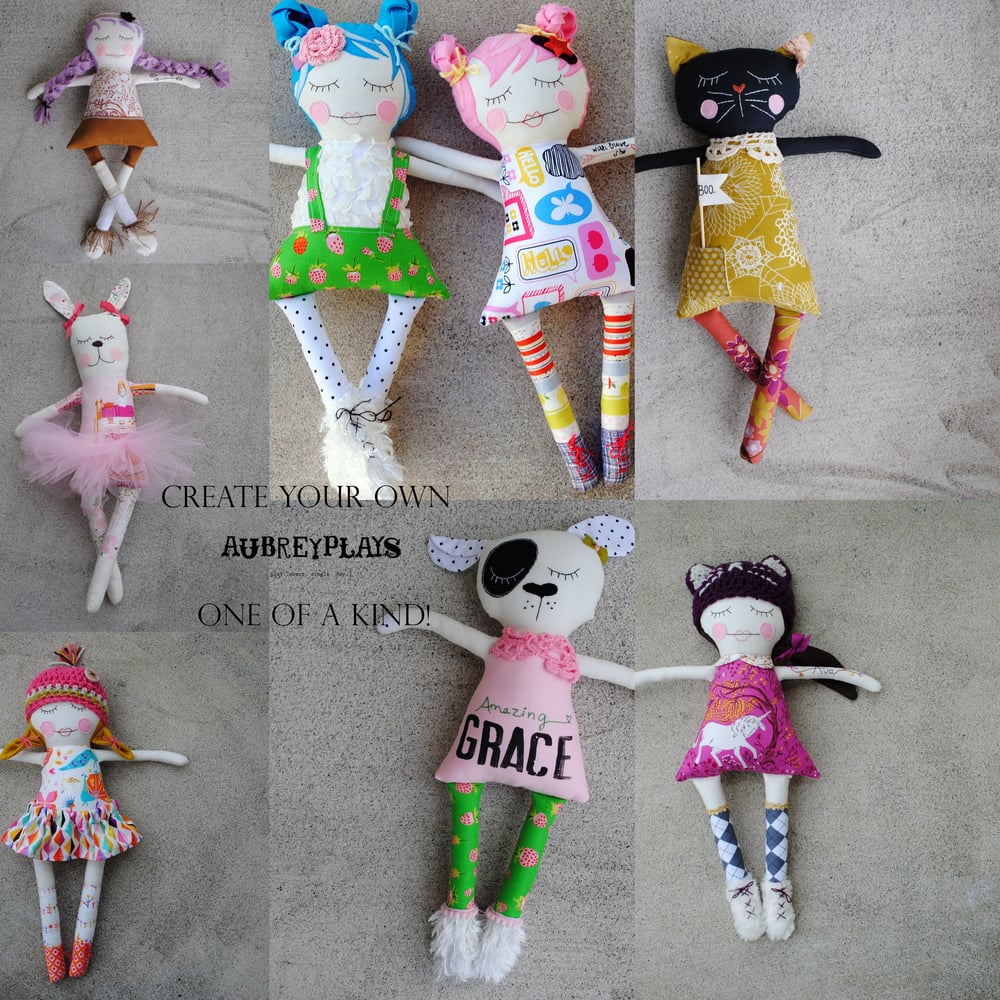 are you ready!? OKAY, let's do this!
have you ever wanted to design your own doll? this listing is all about how you want YOUR very own doll to be!!
This, is going to be fun.
Okay, so get out a piece of paper, and write down your wishes!
first decide if your doll is one of my many animals or if it is human.
If your doll is human let me know what you want by answering one item each for:
Hair color (this will pop up for you when you order)
YOU WILL GET A "GET EXCITED" EMAIL CONFIRMATION AFTER YOU ORDER YOUR DOLL: at the bottom of this email is a link to email me. Use this to send me all of your choices for your special doll
Hair style choices
(Please keep in mind this style of doll will have felt hair. If you rather have yarn hair, please let me know):
1)bun sewed to back of head
2)two buns
3)short pigtails
4)long pigtails
5)one braid
6)two braids
7)mermaid hair
8)mustache
9)goatee
10)beard
(if you want curly bangs let me know!)
Now choose one each for:
section abcde
section fghi
section jklm
NEXT:
pick out as many or none of the items from
section nopq
(keep in mind you can only pick letter Q( tie) OR P(bowtie)
lastly, jot down any notes you will want to tell me about your doll.
including your color preferences. The feel you want to get from it, favorite things...
Now comes the fun part! We get to chat back and forth till we get it just right.
Phew. So many choices!!
PLEASE KEEP IN MIND: TULLE, TUTU SKIRTS ARE AN ADD ON ITEM
**aubreyplays dolls are each unique and one of a kind. Each one comes with its own personality and a little bit of mine ;)
I will use your color preferences to create your one of a kind custom doll. Though, I CAN NOT take specific fabric requests, if there is something you especially would not like to see on the fabric or really would like to see on your fabric, PLEASE just let me know. The more you tell me, the more your doll will turn out like your brain is picturing it!
I will do my best to create something irresistible and uniquely yours. **
GET INSPIRED!!
be sure to visit instagram and search hashtag #aubreyplays
there you will see my most current creations and, oh so many dolls!!
**don't forget aubreyplays has some pretty rock'n extra add ons & accessories, that you may want your doll to have, like:
TATTOOS, HATS, SWEATERS AND MORE!
THESE CAN BE PURCHASED IN THE "ADD ON'S & ACCESSORIES" SECTION OF MY STORE.
any questions?? I can be reached right here in a conversation or email me at aubreyplays [!at] gmail.com
**please allow 10-14 days for your doll to ship**
dolls ship via priority mail because I have had the best luck with this method!~
Share