CUSTOM. CREATE-YOUR-OWN. aubreyplays back to basics doll.
$

110.00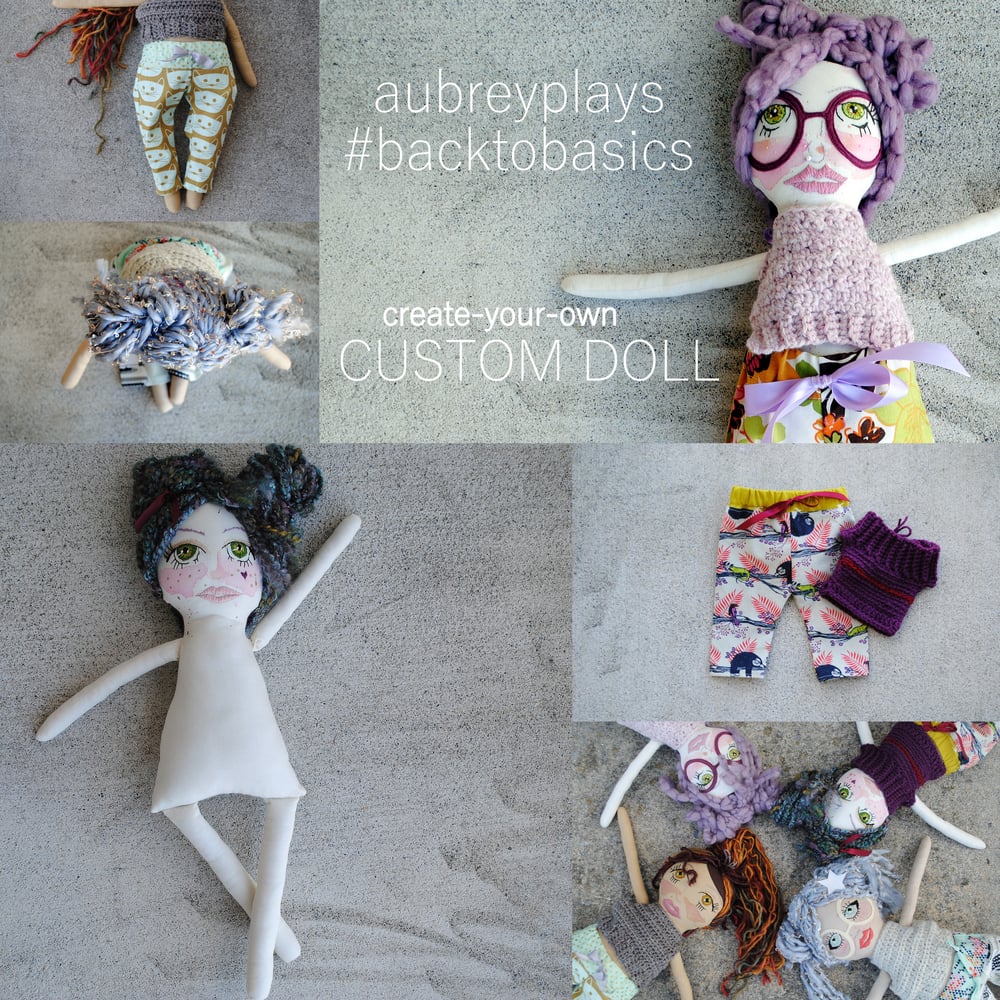 this listing is for a doll that you help me create!
This Listing is for my new back to basics style doll.
This doll's face will be hand painted and have embroidered open eyes in the color variation of your choice.
You will choose the hair color. Each doll has a wool felt base as her scalp and has sumptuous yarn hair.
I can create the hair in the style of your choice. (my personal favorite is buns!)
She will start out naked and come wearing a removable pair of cute pants and a handmade sweater.
You will tell me the color scheme and any motif you had in mind.
Most waistbands will have a tied satin ribbon.
They are TOO. MUCH. FUN.
She will have ABSOLUTELY beautiful embroidered eyes.
She will have a unique hand painted face that has a soft watercolor look to it.
I can be asked to leave off freckles or do extra freckles. (I love freckles.)
I will ask that when you get your confirmation order email, that you email me back with your design choices.
If you are trying to have your doll look similar to someone special, you can send me a photo.
I would love to hear the personality that you are envisioning for your very special doll.
**PLEASE NOTE. This is a more artistic line of dolls and is meant for children over 3 years old.
The yarn hair can pose a hazard for babies, or toddlers that put things into their mouth.
**PLEASE ALLOW 2-3 WEEKS MOST OFTEN MUCH SOONER.
(WE WILL BE COMMUNICATING OFTEN.)
Some things to know about this new line of dolls:
*each of these dolls are measuring approximately 20 inches tall.
*each of these beautifully crafted dolls starts with me painting a watercolor face and then, immaculately stitching faces. This process means that each doll is truly unique and a one of a kind.
*each of these dolls is starting out "naked" (different than any dolls I made before)
each made with 100% cotton. Some of the bodies may have birth marks once I am done with the painting process.
BACK-TO-BASICS dolls VS> aubreyplays original dolls. A COMPARISON:
What makes these dolls different than my original (aubreyplays hello dolls)?
Each of these back to basics dolls start out naked. (the original dolls are always dressed)
These dolls each measure approx 20 inches tall. (the original doll measures 18 inches)
Each doll is 100% unique and can not be duplicated.
The new watercolor faces are even a surprise to me as they each come alive.
How fun is that!? (the original dolls have felt cheeks and closed eyes and are not hand painted)
Availability
Share